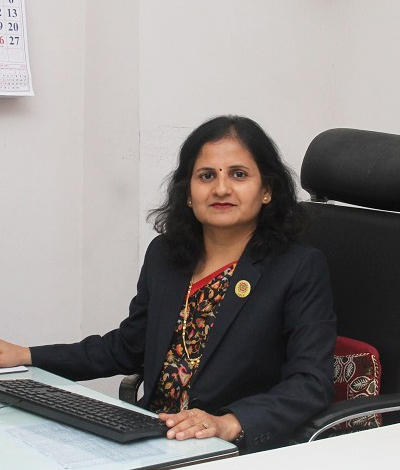 Head of Department
Ph.D. Computer Engg., M.E Computer Engg., B.E. Computer Engg.
Welcome to Computer Engineering Department at SFIT, Mumbai. With an objective of producing and nurturing the Computer Science professional's future technological entrepreneurs and early researchers, Computer Engineering department started its journey in 1999. The undergraduate course in Computer Engineering started in 1999 with an intake of 60 seats which now has been reached up to 120 since 2010.
We have also started two postgraduate courses namely ME and Ph.D in Computer Engineering in year 2018 with the intake of 18 and 10 respectively. Each year about 25% of the final degree year students secure admission for higher studies at top and eminent Universities across the globe and reputed institutes in India. And as a result of this many of our students are emerging as Entrepreneurs. Total of 90% + of our eligible students are placed in reputed industries/organization every year. The competent faculties, dynamic students, specialized laboratories are the strengths of our department. We have our own 'CODEX' a Student association a technical platform for motivating and supporting our students for upgrading them with the latest technologies and help them to acquire necessary skill set as per their requirements. We have an enthusiastic team of staff and students for co-ordination and execution of the Computer Society of India (professional Body) activities throughout the year. Every year team of young engineers from department exhibit their advanced and technical skills in 'Robocon', 'e-yantra' and Smart India hackathon competitions.
We have experienced and highly competent faculty members with excellent academic credentials and expertise in all core and emerging courses of computer engineering.
Being Heart of our Institute SFIT, we are giving strength, motivation, ethical values to our young aspiring engineers besides technical and professional skill sets. We always encourage our students to be socially aware, responsible, committed, and to become smart citizens of today's era.
In line with our vision, we are constantly striving hard to improve in quality and remain committed to focus on excellence at par with global standards.
I welcome you to join our endeavors to deliver and bring out the best for students at SFIT as a competitive edge. Thank you for visiting us.
Programmes offered in the Department
Bachelor of Engineering (B.E.)
Sanctioned Intake : 120
Lateral Entry : 24
Master of Engineering (M.E.)
Doctor of Philosophy (Ph.D)