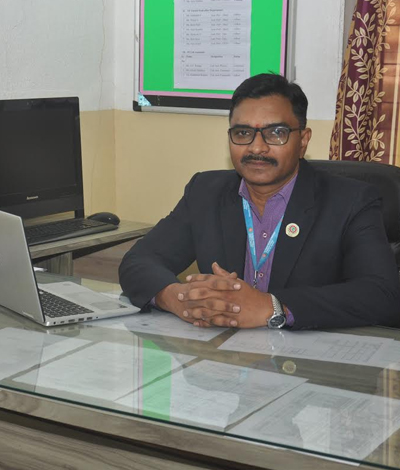 FE Coordinator
Ph.D. (Organic Chem.), M.Sc. (Organic Chem.), B.Sc (Chem.)
Dear Friends,
Welcome to the department of Applied Sciences and Humanities which plays a vital role in an engineering college. It caters to the teaching of basic Sciences and Humanities courses for engineering students of all branches.
The main objective of Applied Science in engineering study is to develop a strong knowledge of basic principles of various disciplines in the mind of learners, so that they proceed with their further studies & also keep upto date with the knowledge of basic engineering skills. The Unique strength of the department is its excellent coordination in carrying out various academic responsibilities. It caters to the needs of the society and carves the younger generation into better citizens thus leading the budding engineers to the path of success.
The department consists of subjects like, Applied Mathematics, Applied Physics, Engineering Mechanics, Engineering Drawing, Applied Chemistry, Environmental Science and Communication Skills.
The Department of Humanities and Science has grown in strength over the years in terms of infrastructure including laboratories and faculty. Our laboratories have been very well established not only to cover the complete syllabus but also to motivate students to learn beyond the syllabus which definitely develops complete knowledge of the subject (both the practical and theoretical depth of knowledge).
Our Department is backed by well-educated, talented and dedicated faculty members to fulfill this task. The subjects taught by teachers of this department are of prime importance for the all-round growth and development of students. Teachers are always ready to guide the students whenever they are being approached.
The teaching module comprises of lectures, tutorials and practical. The methodology adopted in the classroom teaching is based on application of innovative strategies, comprehensive lectures, regular assignments, projects and interaction between teachers and students. The Department offers the students a dynamic change-agent creating new knowledge, enhancing quantitative skills, molding and shaping new identities.
We, at SFIT are always striving to perceive and resolve students' queries so that the overall personality of the student can be groomed. The Department of Science and Humanities emphasizes and wishes for increasing the knowledge of the student, enhancing the critical thinking, ability to change information into knowledge and power of analyzing any given matter, technically. We are confident that our Engineers will emerge as assets not only to this institution and to the organization that they belong to, but also to the country at large.
Programmes offered in the Department
Basic Science and Humanities (FE)
Duration : 1 year
Sanctioned Intake : 487