National Entrepreneurship Network (NEN)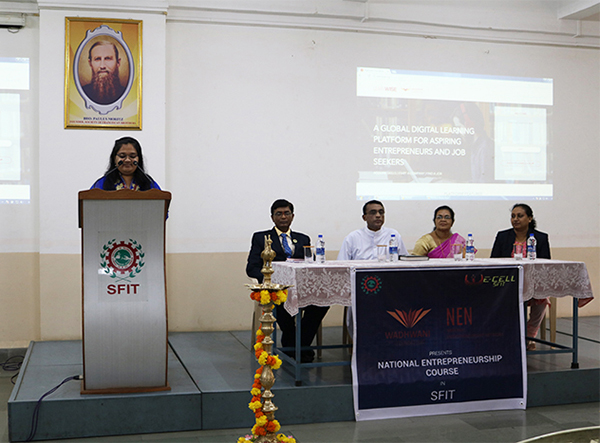 We inaugurated NEN Entrepreneurship course in our college on 15-07-2017.
National Entrepreneurship Network (NEN) inspires, educates and supports student entrepreneurs, startups and SMEs for creating high-value jobs in India, Indonesia, Malaysia, Philippines, Kenya and Mexico, operating in association with governments, corporates, mentors, investors and educational institutes.
NEN Student Entrepreneurship Programs inspire, educate and skill young entrepreneurs :
Cloud based Learn Wise platform.
Wadhwani E-Cells on campus
Campus Companies
Networking on wfnen.org
NEN Entrepreneurship Support Programs through expert resources – investors, mentors, educators & coaches.
It Operates on;
Learn Wise platform
Mentor Wise platform
Fund Wise platform
The course consists of 7 modules. Up to module 103 are conducted in the campus.
WFNEN 100 - Orientation in Entrepreneurship
WFNEN 101 – Basic program in Entrepreneurship
WFNEN 102 - Intermediate program in Entrepreneurship
WFNEN 103 – Advanced program in Entrepreneurship.
WFNEN 104, WFNEN 105 AND WFNEN 106 will be conducted outside the college.
These courses are conducted along the regular college, as co-circular activity.
These courses will help our students:-
To experience the world of entrepreneurship through fun activities.
Provide a platform for students to learn entrepreneurial skills.
Enable students to become entrepreneurial leaders who are focused on business opportunities and value creation.
Empower students with necessary tools and guidance to leverage their entrepreneurship abilities.
Provides networking opportunities with networks and resources in the business world.
Provides networking opportunities with subject matter experts, angel investors, CEOs of organizations including startups, and alumni members while still in college.